Restaurants & Bars in Porto Cervo
At Cala di Volpe hotel, guests can enjoy a collection of epicurean experiences: from poolside relaxation to fine dining at our signature restaurants, Cala di Volpe and Barbecue. Enhanced by Jacques Couelle's expressive architecture, the typical beauty of Costa Smeralda complement the culinary offer that features indigenous ingredients from Sardinia's best producers as well as international classic dishes to please gourmants from all over the world.
Lobby Bar Welcome to Cala di Volpe
A collection of delectable cocktails and live piano music, iconic architecture and spectacular views of the bay welcome guests at the Lobby Bar.
Bar La Piazzetta Poolside relaxation
Bar La Piazzetta offers guests the ideal place to indulge in a refreshing drink and nibble on local treats after an invigorating swim.
Il Pontile Bar Casual elegance and local charm
Rural elegance and the vibrant hues its iconic furniture are Il Pontile Bar's signature. The masterfully mixed cocktails and exhilarating views of the marina complement the experience.
Bar Atrium Relaxing as paradise
Unwind at Atrium Bar, the Costa's most famous hangout, savouring delicious cocktails accompanied by light culinary treats, while observing the yachts rolling gently with the come and go of waves.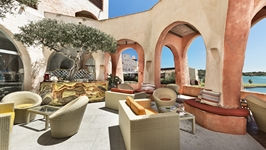 La Cave Wine tasting in Sardinia
Over 400 bottles of the world's finest wines to sample in a unique setting, La Cave wine cellar treats guests to a truly romantic experience.
Cala di Volpe Restaurant Mediterranean charm
Iconic interior design by Jacque Couelle and adventurous flavours of Sardinian cuisine complement each other for a true epicurean experience.
Barbecue Restaurant An unforgettable summer lunch
Dine al fresco at the Barbecue Restaurant enjoying beautiful views of the glittering bay and delighting in the lavish buffet offering Sardinian-inspired dishes, Mediterranean and international cuisineand wood oven delicacies.
Cala Beach Club
CALA BEACH CLUB is located along the private beach of the Hotel Cala di Volpe. The restaurant offers an elegant respite just steps away from the main hotel for guests to enjoy. Cala Beach Club is the preferred summer escape for high-end clientele and private VIP parties.